See what Tim Gavagan, Founder of "Singing Friends" had to say about our Tribute to Natalie Cole show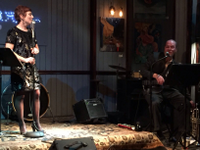 January 30, 2016 
The Stacie Steinke Trio was on the mark with her Natalie Cole tribute show. Her three set show included many songs that Natalie Cole recorded and helped make famous again. Her trio included two of the most talented Jazz musicians in the area. Multi instrumentalist Robert Vetter on trumpet, coronet, Flugelhorn, guitar and melodica and the gifted Michael Maher on piano. 
The evening was a tour de force of Great American Songbook Standards and Bossa Nova classics.
Stacie created a dynamic and exciting show model with alternating musical presentations. Her vocals contrasted smoothly with the purely instrumental presentations. It worked well and was a creative alternative to extended solos within the same song.
I enjoyed many of the songs in Natalie's repertoire that Stacie did with sensitivity and passion. Some of my favorites were "Orange Colored Sky, When I Fall In Love, Paper Moon and Smile." These songs combined with Stacie's other song choices truly created an unforgettable evening. 

tim gavagan productions llc